POSTGRADUATE PROGRAM /
Master of Arts in Politics and Government (MAPG)
The Masters Program in Politics and Governance at UGM currently offers five scientific concentrations, namely Indonesian Politics, Local Politics and Regional Autonomy, Election Governance, Natural Resources Management, and Human Rights and Democracy.
1. Indonesian Politics
This concentration explores the dynamics of Indonesian politics at the national level. Through this concentration, students are encouraged to understand actors, institutions, mechanisms, and the direction of political change in Indonesia from time to time. Students will learn about a variety of approaches and theories that explain these changes. Analytical competence will be the main dimension that will be developed through this concentration.
2. Local Politics and Regional Autonomy
This concentration aims to encourage students to have strong analytic competencies and to combine them with practical and advocacy competencies that enable students to be actively involved in social change at the local level.
3. Election Governance, Political Party, and Parlement Management
Elections have become an important mechanism in the institutionalization of democracy in Indonesia. Therefore, strong human resources are needed to oversee quality and fair elections. This concentration equips students with analytical and practical competencies by encouraging an understanding of macro and micro aspects of election management. Through a lecture process that involves a more active method, students will also be encouraged to find real solutions for more transparent, accountable, and democratic election management.
4. Human Rights and Democracy
Human rights and democracy have become important global norms that underline every social and political practice. However, as a global norm in practice, human rights and democracy often give rise to new tensions due to variations in social and political contexts. The concentration of Human Rights and Democracy in the MAPG seeks to understand the various perspectives in this area. The focus will be directed not only on the value dimension but also on the institutional aspects and their impact on social and political change. This concentration encourages students to have strong political competence as well as advocacy skills related to democracy and human rights.
5. Natural Resources Management
Almost all political practices cannot be separated from the resource factor, one of which is natural resources. The Natural Resources Management concentration in MAPG invites students to discuss the importance of natural resources in the context of political economy, both locally, nationally and internationally. This concentration discusses how political processes are intertwined with corporate actors for the sake of political economy interests. Not infrequently, the political processes carried out are intermediate goals in order to create extractive economic sustainability in various sectors and actors.
In first semester, Masters students in the Department of Politics and Government have 6 (six) compulsory courses that must be completed before continuing on to the next semester.
In second semester, Masters students only have 1 (one) compulsory subject, namely Research Methods. In this semester, Masters students are also required to choose 5 (five) courses from 1 (one) concentration only. This means that students in second semester have a total of 6 (six) courses that must be completed to proceed to the next semester.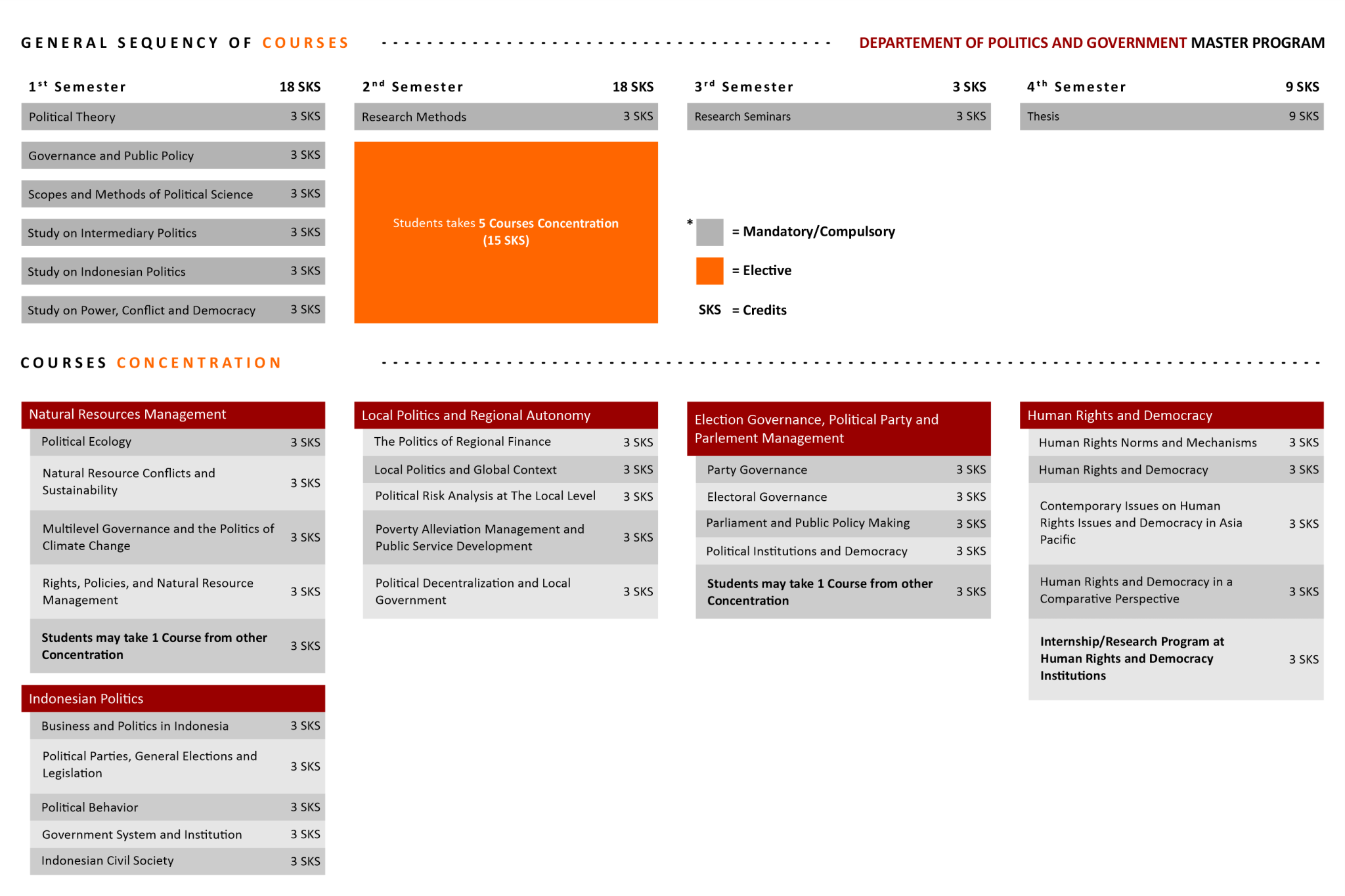 Registration fees, matriculation fees, tuition fees, as well as master's program graduation fees can be accessed via the button below.
Amount of Tuition Fee (UKT)
Million Rupiah / Semester
Frequently Asked Questions (FAQs)